Model SR-FSK-300/1500
Application
The machine is suitable for packing all kinds of free flowing, non sticky products, such as washing powder, coffee, tea, sugar, peanut, oatmeal, etc.
The integrated process of bag making, measuring, filling, sealing, cutting and counting can be done automatically.

Packing materials: heat-sealable lamination, such as PET/VMPET/PE, PET/PE, NYLON/PE, etc.
Feature
1. Filling capacity is up to 1500ml, energy saving up to 50%.

2. Adopts mill type filling system, loss prevention, speed improving, avoid sticking to the sealing area.
3. Adopts smart photocell for automatic tracking, which guarantees the pattern on the packing material complete and beautiful.
4. Low noise, stable operation, long life cycle ( more than 10 years ).
5. Unique easy cleaning system makes changing filling material and maintenance comvenient and time saving.
Main technical parameters
SR-FSK-300

Bag size

L:40-190 mm W:30-110 mm

Capacity

30-60 bags/min

Filling range

5-160 ml

Power

220 V,50 HZ,1.5 KW

Weight

300 kg

Dimension(L*W*H)

820x695x1740 mm

SR-FSK-1500

Bag size

L:100-300 mm W:40-190 mm

Capacity

15-50 bags/min

Filling range

50-1500 ml

Power

220 V,50 HZ,1.5 KW

Weight

350 kg

Dimension (L*W*H)

1200x800x2000 mm

Ideal Thickness of Flim

65μm-75μm
Depending on product property and filling volume
Other Picture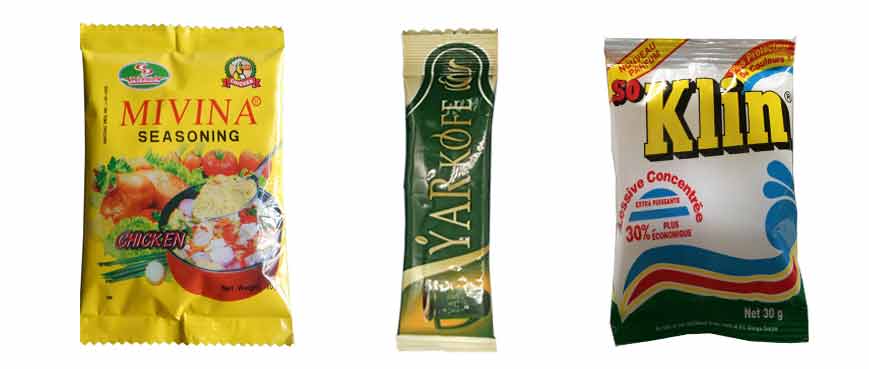 Machine video