Model SR-FSCH-10A
Application
This compact model is designed for automatical packing of fannings, dust tea, health-care tea and other granular shaped products in filter paper bags, with thread and tag.
Based on our constant innovation, it becomes quite easy to operate and can assure high performance with precise dosage and nice bags.
Feature
1. All stainless steel cover SS304 which meets GMP standard.
2. Equipped with antipollution and dustproof device.
3. Equipped with easy-washing device.
4. Conveniently adjust the bag size and filling range. One machine can pack different bag sizes and filling range to meet market diversification.
5. Photocell makes sure the complete pattern on bags and accurate bag legnth.
6. Our machine has obtained international CE Certificate and has been exported to many European countries. European style design, Chinese market price.
7. Just pack inner bag with thread and tag.
8. With no film alarm system, when the packing material is finished, the machine will stop automatically, it can help save material and labor (one worker can operate several sets of machines at one time). This part is as option.
9.The bag shape is three side seal. The bags can be with folded edge or unfolded edge. These two bag shapes can be changed by changing the bag former. The bags with folded edge can make sure the tea is well-soaked.
Main technical parameters
FSCH-10A

Bag size

(L)50-80mm (W)45-75mm

Capacity*

28-50bags/min

Filling range

5-15ml, adjustable

Power

220V,50HZ,1.8kW

Features

Filter bag with thread and tag

Tea-leaf filter paper

17-21g/m2

*Depending on product property and filling volume
Other Picture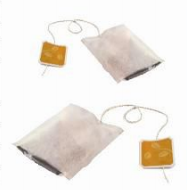 Machine video